WHAT WE DO
Artificial Turf Installers – We make lawns look beautiful
Our Service Portfolio
Thank you for exploring the array of services LA Turf & Paver is proud to offer.
Commercial and Residential Solutions: Our premium artificial grass sets industry standards in both feel and appearance. Ideal for front yards, backyards, terraces, and even rooftops, it promises to elevate the aesthetic of both homes and businesses. With a guarantee to retain its vibrant look for over a decade, our turf is not only visually appealing but also economically sound, eliminating the need for watering or routine landscaping upkeep.
Sports and Recreation Zones: Artificial turf has become a sought-after choice for sports arenas, both indoor and outdoor, spanning football, soccer, baseball, and more. Its resilience and low maintenance make it a preferred option for those in pursuit of convenience without compromising on quality.
Pet-Friendly Turf Solutions: We introduce our specially curated K9 Lush Turf, designed keeping your furry friends in consideration. Not only does it deter digging tendencies in pets, but it also ensures a sanitary environment by warding off macrobiotic organisms. Additionally, our incorporation of ZeroFill technology actively combats unpleasant odors emanating from pet waste.
Moreover, our service portfolio extends to artificial ivy installations, crafting putting greens and mini-golf zones, as well as professional paver installations. Each of these services is executed to perfection by our seasoned team of artificial turf and hardscape specialists.
Expert Turf & Hardscape Install Services
Commercial & Residencial Areas
Boasting the industry's most authentic and plush artificial turf, it's no wonder many opt for this transformation in their home's front and backyard, or to enhance the allure of an office entrance. This premium turf not only promises enduring aesthetics but also negates the need for continual upkeep. The added benefit? A significant reduction in water usage, addressing a crucial environmental concern. Reach out to LA Turf & Paver, where our expert artificial turf installers are ready to redefine your space with unmatched finesse.
Sport & Play Areas
The adoption of artificial turf in play areas has seen a significant rise in recent years. Its resilience and versatility make it a top choice for both open and enclosed spaces, from mini football fields to soccer and baseball camps. With artificial turf, enjoy the freedom to play in any setting without the hassles of landscaping maintenance or water preservation. At LA Turf & Paver, our professional artificial turf installers ensure precision and expertise in every installation, guaranteeing optimal performance and longevity.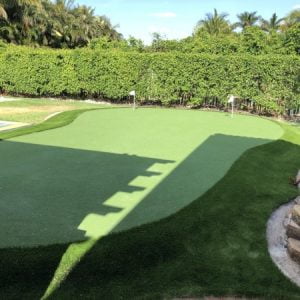 Golf & Putting Areas
Experience top-tier landscaping with LA Turf & Paver, your premier artificial turf installers. Our USA-made artificial turf, tailored specifically for mini-golf courses and professional golf camps, stands as a testament to quality. With a dedication to providing only the finest and most realistic grass available, our experts ensure you receive unparalleled service. Reach out to us today for detailed insights into our offerings and the installation process.
IVY Walls & Artificial Plants
When faced with exposed air conditioning units or gates with excessive open spaces compromising privacy, a tasteful and effective cover is essential. IVY products present a stellar solution to these challenges. Both Boxwood Ivy and Boxwood Hedges not only offer cover but also elevate the aesthetics of the space they adorn. Whether it's the backyard, the facade of a house, or even walls, our artificial Ivy ensures longevity paired with elegance.
At LA Turf & Paver, our commitment lies in sourcing and utilizing only the industry's finest quality products. Our unwavering objective is to deliver exceptional landscaping services, synonymous with unparalleled product quality. Rest assured, our standards guarantee it.
Pet Areas
Introducing our state-of-the-art artificial landscaping solutions, designed to address any pet-related concerns with ease. Our pet-centric synthetic grass, K9 Pro Turf, assures years of serenity, diminishing the challenges pet owners commonly face. This turf has been intricately designed to deter macrobiotic organisms, maintaining the yard's cleanliness and vibrancy.
A standout feature of K9 Pro Turf is its resistance against dogs' digging tendencies. Not only does it withstand their attempts to dig, but it also curtails this behavior over time.
Our installation team, backed by a decade of expertise, ensures flawless integration of this superior product into your space. With K9 Pro Turf gracing your property, anticipate a perpetually clean home and a yard that remains aesthetically pleasing regardless of the season.
Further enhancing its performance, we incorporate industry-leading treatments such as Zeofill and Envirofill. These components actively neutralize pet waste odors, ensuring that any resultant smells remain unnoticeable. A testament to its efficacy, K9 Pro Turf is the chosen landscaping solution for countless pet owners, lauded for its unparalleled odor-filtering capabilities.
Travertine, Marble and Brick Install Services
Travertine & Marble Installation
Our pavers, crafted in the finest Marble and Travertine, come with two distinguished finishes: tumbled or brushed and chiseled. These pavers stand robust against moisture, temperature extremes, and erosion, ensuring no heat retention, keeping the surface refreshingly cool to the touch. Specifically, the Atlantic Stone Source pavers feature slip-resistant properties, making them an ideal choice for poolside installations.
Beyond their functional benefits, their resilience against cracking ensures lasting beauty, promising to enhance the allure of your home for years and concurrently boosting its market value.
It's noteworthy that natural stone, by its inherent nature, may display variations in color, texture, and shade. Such variations are anticipated and celebrated, adding to the unique charm of each tile.
Our Travertine tile range includes sizes:
– 4″X 8″, 8″X 8″, 6″X 12″, 8″X 16″, 12″X 12″, 16″X 16″, 12″X 24″, 16″X 24″, 24″X 24″.
– Finishes: Honed and Filled, French Pattern Polished, French Pattern Tumbled, Brushed and Chiseled.
While unpolished natural stone provides optimal traction for outdoor applications, opting for polished stone can introduce a distinct feel and aesthetic, perfect for interior design versatility.
Check out our latest Videos !
🌿Introducing Our Annual Backyard Renovation Donation🌿
🏠 At LA Turf & Paver, we believe that every child deserves a safe and inviting space to play. That's why we're thrilled to announce our new initiative – the Annual Backyard Renovation Donation! 🎉
Transforming Spaces into something more fun and unique with LA Turf & Paver
Transforming spaces, one tile at a time! Dive into our latest project where we swapped out artificial turf, crafted a solid concrete foundation, and showcased the elegance of custom 60×60 inch porcelain tiles.
Elevate your outdoor space! With LA Turf & Paver, every square inch speaks of elegance and quality.
Big Project ! And coming for more, we are glad to have clients that come to us again, at the end is all about relationship and professionalism 👌
Artificial Grass Installation with LA Turf & Paver Pros
Through this video you can appreciate the process of Artificial Turf Installation for landscaping areas like backyards, side yards, pet areas and more. Process of installation is recommended to be executed by an expert installer.
Your dream backyard awaits! Dive into premium tiling and turf solutions with LA Turf & Paver. 🏡
Unlock the full potential of your outdoor spaces with LA Turf & Paver. Our expertise spans from intricately laid tiles to lush artificial turfs, all tailored to your unique vision. Let's transform your yard into a masterpiece of durability and style.
Project with Soccer Field & Putting Green on the same Property!
Take a look at this design out of this World, if you have a big house and why not, big pockets, you want something like this at your property, it really is a game changer 🙂