WHAT WE DO
We make lawns smile
Welcome to our services page, where you'll discover our wealth of products and services. Come and let's take a look: Commercial and Residential Areas Our artificial grass is the softest and most realistic turf in the market. Perfect for front and back yards, terraces, and rooftops, our grass is guaranteed to improve your home or establishment's aesthetic appeal. Our artificial turf will last for at least 10 years without fading and requires no water or landscaping maintenance. Sports and Play Areas The use of artificial turf on play areas has increased over the years because they are more resistant and convenient for both indoor and outdoor sports, like football, soccer, baseball, and many other sports. Pet Areas Our specially-made synthetic turf called K9 Lush Turf is designed with pets in mind. Macrobiotic organisms are kept at bay, and dogs will find it impossible to dig holes into, keeping your pet play area clean and beautiful. We also use ZeroFill, which is a material that helps prevent bad odors from pet waste. In addition, we also provide artificial plants, putting and mini-golf areas, as well as paver installation.
Some of the services we offer
Commercial and Residencial Areas
With the most realistic and softest artificial turf in the industry any body would like to have it over their areas like front and back yard of the house, improving the color and beauty of the office's entrance. Incredible uses and no more maintenance over the years. With this sophisticated grass, you will never need water or landscaping maintenance, remember the use of too much water is something we have to work on.
Sport & Play Areas
Use of artificial turf on play areas has been increasing over the years, more and more people use it for this purpose because is more resistant and convenient for open and close areas like mini football camps, soccer, baseball camps and more. This product brings the possibility to play in close areas without any landscaping maintenance or conducts of water to preserve the grass in good shape.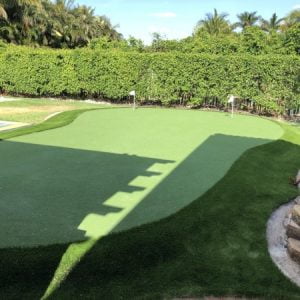 Golf & Putting Areas
Best quality landscaping and completely made in USA artificial turf specially for mini golf and professional golf camps. LA Turf & Paver experts are here to make sure that you have the right service with the best artificial turf on the industry. We offer the softest and realistic grass for you. Just call us to get more information about the process.
IVY and Artificial Plants
Usually when we have the Air conditioning machine completly undercover or we have a gate with to many open spaces and we need more privacy, we need something really nice to cover it and make it unique. With IVY products you can make that happen. Boxwood Ivy and Boxwood Hedges give you that and even more. You can transform the back yard or the front house and even walls with this artifical Ivy that is made to last a really long time. LA Turf & Paver only use the best quality in the industry because our only goal is to offer the best landscaping service with the best quality in the product. We make sure about that.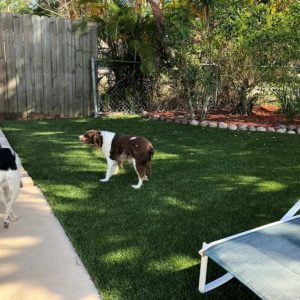 Pet Areas
With our latest artificial landscaping products any situation cause for your pet can be solve in minutes, our synthetic grass specialize on pets give you a moment of peace through the years. K9 Lush Turf, our special Synthetic turf helps you to keep your yard clean and out of macrobiotic organisms. This special artificial turf holds much more when your dogs are trying to dig opening holes on the grass, and most of the dogs are going to stop their digging habits. We are specialize in install this products with specialist with more than 10 years doing this kind of jobs. With this turf over your house you will be free, because your home will be clean and your yard will be beautiful all the time.
Also we use our best product in the industry call ZeoFill that helps prevent bad odors from dog waste, reducing these odors so they are not to be disturbed. This incredible landscaping product is used by all people with pets at home. This turf is so important because of its incredible odor filtering power!
Travertine, Marble and Brick Services
Travertine & Marble Installation
Our Pavers are available in Marble and Travertine with finishes: tumbled or brushed and chiseled. They are resistant to moisture, cold, heat and erosion. There is no heat retention and its surface remains cool to the touch. Atlantic Stone Source pavers are slip-resistant making them a perfect addition around a pool area. There is extreme durability and resistance to cracks. The beauty of your home will be accentuated for years to come as well as increase your home value.
Natural stone materials present variations in color, finish, and shade and could differ from tile to tile. This is expected with any natural stone products and it is what makes this product unique.
We offer Travertine tile in: 4″X 8″, 8″X 8″, 6″X 12″, 8″X 16″, 12″X 12″, 16″X 16″, 12″X 24″, 16″X 24″, 24″X 24″, Honed and Filled, French Pattern Polished, French Pattern Tumbled, & Brushed and Chiseled.
Unpolished natural stone offers great traction for outdoor use. Polishing completely changes the surface, feel and look adding great variety for interior decorating.
Why Use Silverback
Our Latest Technology with SilverBack give you a lot more Strength, Durability, Stability and Comfort for more than 10 years guaranteed. Our technology and Factories are specialized producing quiet a Quality for our Customers
Artificial Ivy Instillation
Our Latest Technology with SilverBack give you a lot more Strength, Durability, Stability and Comfort for more than 10 years guaranteed. Our technology and Factories are specialized producing quiet a Quality for our Customers
Why Use Silverback
This beautiful installation shows how synthetic grass makes your house look amazing, It gives you the opportunity to forget about excessive water use, no maintenance, no cutting, and most important no waste of money. You can have all that with our synthetic grass made to last for more than 12 years and to support high temperatures with the help of SilverBack, our last technology in backings
Questions? Comments? Want to hire us? Let us know.